When a company achieves success in their industry they scale by expanding office space, locations, and staff. The increase in workflow and communication means utilizing both a network infrastructure and intranet features that provide efficient methods for new communication systems, workflow tools, file, and mobile sharing methods.
With the growth of staff who hold different credentials within one company comes the need for new or even upgraded intranet features. As departments spread out and employees take on new roles a new way of working must be developed.
The most important intranet features should include a communication channel and file sharing capabilities. Also, they should be able to work on the go. These intranet features, as well as the opportunity to work from anywhere at any time, can create a stable and productive operating environment for employees.
Microsoft SharePoint Platform is thought to be the best out of the box intranet software for building digital workplaces. While development is a really expensive way, the most important factor for choosing SharePoint platform is its guaranteed safety and security, as well as the capability to integrate any of required sharepoint intranet features (widgets).
Microsoft SharePoint is fully integrated software that can be used to create mini-sites or communication channels for specific departments across the company as well as to facilitate intranet features such as document management and cloud-based storage on a large scale.
If your company has some very specific needs, operating procedures or systems of approval, then intranet software is one of the business solutions that can be optimized and customized to exactly your demands while providing the maximum amount of requested intranet features and options.
Namely, in the Following Cases, You Can Take Advantages of Intranet Features' Privileges:
Simplify Communication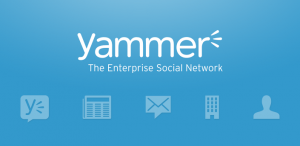 For ease workflow and quick discussions, your intranet should provide one of the most popular sharepoint intranet features – Yammer (#1). This is one of the most useful intranet features for enhancing business communication.
Having several departments within a company leads to the need for separate communication channels. Colleagues from every department have the ability to communicate internally using a specially developed Microsites Tool (#2). Create multiple websites with this intranet feature to improve conversations and project collaborations, which can happen inside large open groups, or small private groups when project concepts must be kept confidential.
Information Sharing and Securities Ensuring
Companies demand mutual cloud-based storage for two reasons: to avoid computers overloading with volumes of documents and to have an access point for current documentation. The sharepoint intranet features such as File Share (#3) and Lists & Libraries (#4) Tools are excellent for sharing, downloading and editing documents as well as creating one corporate portal for better documents, videos, and photos search. When the organization provides access to corporate data, it is important to create a secured workspace as the information leaks can threaten the company of any size at any time.
Automation of Business Processes
Many employees work with standard documents that are critical to their daily job. For example, filling out human resources documents, purchasing requests or making expense reports are just a few tasks an employee can complete in a day. With one of the most indispensable sharepoint intranet features such as Workflow Management Tool (#5), employees are capable of creating standard electronic forms that fit their needs and automate workflows.
The Task Manager (#6) intranet feature helps the staff to automate and monitor assignments' performance so they are never forgotten. Using the correct intranet features to minimize workflows creates consistency and efficiency.
Optimizing Management Time
Companies need a simple, reliable way to deliver information from top management to every employee as well as an automated onboarding process that will make new worker transitions smooth and welcoming.
Using a Corporate Blog (#7) Tool is a guaranteed way to provide transparency and management support. The News (#8) is another highly useful intranet widget from intranet features for quick latest news sharing, crucial information getting and mutual discussions.
Time Increment
Organizations waste money and much of time due to resulting lack of efficiency. But with appropriate sharepoint intranet features, you get the ability to openly communicate, transmit data and collaborate on projects in real-time produces an immediate sense of efficiency.
Reduce time lost with a personalized intranet search engine (#9) which focuses on each employee's individual history of requests to provide them only the relevant and crucial data.
Improve your intranet CRM with the help of Smart Report (#10) and build engaged community of confederates.
In the end, a well-designed sharepoint intranet and appropriate intranet features play a huge part in an active work environment. Never spare expense when the time arrives to find an appropriate intranet solution. The end result will give your company the capacity to build, design, engage and collaborate within one corporate portal.